GOOGLE CENSORS FREE SPEECH IN AMERICA
DELETES MY BLOG POST ON THE MUHAMMAD CARTOONS!

I have tried to be very up-front and candid in my campaign blog (see below) which is hosted on Blogspot, a service owned by Google.

But those hypocritical bastards who say they don't want to be "evil" were exactly that and deleted my post from Saturday. A lot has been written about Google's pact with the devil in China. But this action shows we'd better be wary of how they can stifle free speech here in America.

You can read that full post here.
---
WHERE DO I STAND? NO BS, NO WAFFLING
[Except When Google Censors me]
Scroll through my blog in the window below, or go there directly.
---
Braxton Launches Presidential Bid Dec. 14, 2005
At Cline Cellars, Sonoma, California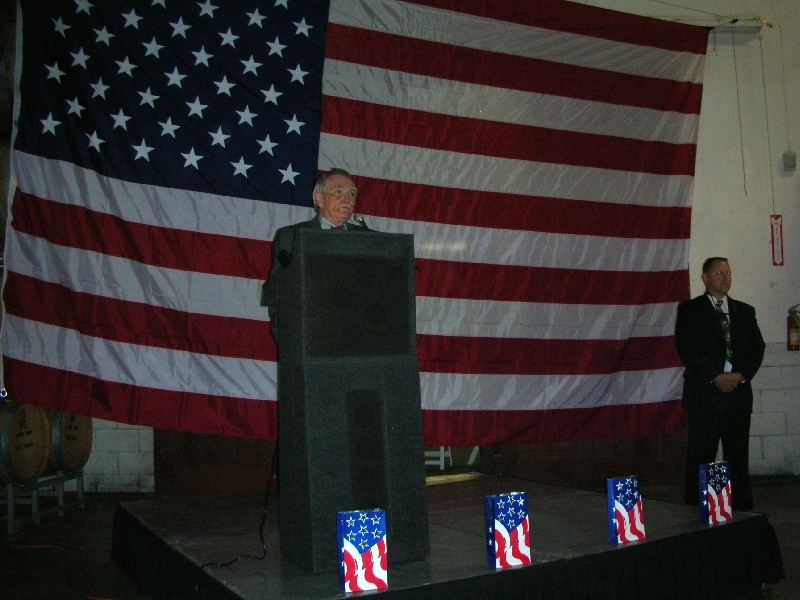 ---
Issues Position #3:
Over-Extending and Under-Funding the Armed Forces
By Clark Braxton
The single most serious problem facing American armed forces today: over-extension and under-funding. For the past 30 years, the number of personnel under arms and the net present value of defense appropriations, adjusted for inflation, have both been falling. At this very same time, global demands for U.S. military intervention have been rising.
In short, Congress gives the U.S. military more to do every year and offers us less with which to do it. We all know that technology has been an invaluable tool in increasing our effectiveness. Computers have allowed a single Apache attack helicopter pilot to deliver the firepower of an artillery battalion; advanced guidance systems mean that one precision bomb can do the work that hundreds use to do; satellite and other electronic surveillance can give us usable data like never before.Ē
The 2003 Iraq war clearly demonstrated the power of light, fast, smart troops. But it also showed clearly that the human element has become the weak link now that gains from technology have plateaued
This raises the absolute necessity to improve the only part of our fighting force that has eluded technological efficiency so far: the soldier on the ground. We're all too familiar with the ultimate conundrum of victory: it canít be done from the air or from a ship; it can only be achieved by troops on the ground. But troops are not only financially costly, they can be politically disastrous when feet on the street turn into bodies on the ground.
This is complicated by the irrational and relatively brittle nature of the average ground soldier. It is critical to maintain focus on the problem we must address. The heart of our new initiative actually began back during World War II when one of our analyses shows that only about 15% of American troops actually fired their weapons at the enemy, even when they were under attack. Fortunately for us, the Germans and Japanese troops exhibited same firing rates, otherwise the conflict would have had a far darker outcome.
The premier study wasconducted by General S.L.A. Marshall in 1947. But while Marshall has his detractors, his conclusions are undeniable. There is something innate in most humans that prevents us from killing another human. Indeed, most soldiers in WWII were brave and would risk their lives transporting ammunition, saving lives, pulling wounded soliders to safety and otherwise supporting the 15% of those who were actually shooting. But they would not shoot their own weapons. This was the primary reason that in modern warfare, including the second Gulf War in Iraq, most enemy casualties were produced by artillery, missiles, aircraft ordnance, laser-guided bombs, shoulder-launched missiles and other methods where killing was at a distance and the enemyís face was not visible to the killer.
New infantry training was instituted after W.W.II to address this firing rate issue, but while we increased the firing rate dramatically by Vietnam, we did not improve the kill rate because soldiers shot to miss. The majority of average infantry troops still shoots to miss. Iím not, repeat, not talking special ops here or first wave invasion forces like Marines or Airborne, but the average grunt in an infantry division. But most of our people under arms are more likely to be grunts than Rangers. What this means to us is that if we can produce a grunt that shoots to kill every time, we need to put only about one-fourth of the number of troops in harmís way.
If you add up the numbers, it means that we can deploy an efficient killing machine and need only one-fourth the tents, supplies, meals, hospitals, helicopters, doctors and other logistical supply chain expenses. A one-hundred-percent, shoot-to-kill ratio will save thousands of lives and billions of dollars.
In addition, re-deploying existing appropriations among a far smaller number of troops means that we can finally begin to pay these brave men and women a fair wage. Itís a disgrace that we pay so little to those who must be ready to pay the ultimate sacrifice for us.
No member of the armed forces should ever be so poorly paid that they can qualify for food stamps again.
But to maintain this smaller force at peak capacity we need to engineer the warfighter to neutralize the overwhelming anxiety over needing to kill the enemy and to overcome the fears and stress associated with combat itself.
Call it battle fatigue or something more scientific, but the fact is that in a modern ground war, some forty to fifty percent of casualties will be the psychiatric wounded. Only about two percent of troops are psychologically built to withstand sustained combat beyond about three weeks.
Today, thanks to some significant research and testing pioneered weíre pretty good at determining who those people are and steering them into one special forces unit or another.
The armed forces are thus faced with the seemingly impossible task of trying to turn the other 98% of ground troops into a smaller, more lethal special forces operation. This requires the full-fledged support to develop and deploy appropriate and effective combat pharmaceutical solutions to assure that warfighter personal technology can catch up with advances already made in hardware and armaments.
Given increasing demands on us, declining Congressional appropriations and an increasing unwillingness of the American people to bear the casualties necessary to support the freedoms that are now taken for granted, we must find a path to that seemingly unreachable goal if the military is to continue performing its sacred duty to protect America.